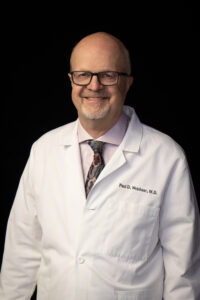 Paul W. Weishaar, MD, is a fellowship-trained vitreo-retinal specialist, certified by the American Board of Ophthalmology.
Dr. Weishaar attended medical school at the University of Kansas School of Medicine. He completed his Ophthalmology residency and Vitreo-Retinal Surgical fellowship at Bascom Palmer Eye Institute, University of Miami School of Medicine. Dr. Weishaar joined Vitreo-Retinal Consultants and Surgeons in 1996.
Dr. Weishaar's research and clinical interests include diabetic retinopathy, vascular diseases, macular degeneration, proliferative vitreoretinopathy, retinal detachment, and IOL repair or replacement.